NMC Relaunches Site for UNC Entrepreneurship Minor
New Media Campaigns has recently relaunched the site for UNC's Entrepreneurship Minor, a signature program of the Carolina Entrepreneurship Initiative which seeks to create new entrepreneurs out of students in the school of Arts and Sciences. Since the entrepreneurship minor is all about helping students learn how to innovate, create, and design new products, services, and business processes, it is important that its representative website reflect those values. New Media Campaigns has therefore updated the website with new innovative features and practices.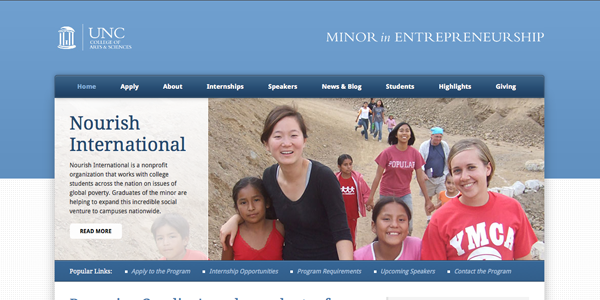 Seeking to improve site performance, New Media Campaigns used modern technology and current best practices to ensure that the site is functional, intuitive, and searchable. A key element of the relaunch is the use of our own Content Management System for designers, HiFi. HiFi ensures that the site always loads quickly and is easy to find, while also allowing easy updating and maintenance by the school. The CMS allows the minor to have easy and full control of their content on the site so that they can continue to add content and update the site as needed to keep up with changes, innovations, activities, successes, and information in the business world.
Featuring a fast and intuitive interface, visitors can quickly find the information they're looking for, whether it be news about the business world, initiatives implemented by the school, or information about what entrepreneurship means and how one might enroll in the program.
HiFi is the embodiment of the spirit of innovation at New Media Campaigns, and we are proud to continue to support the entrepreneurial spirit at the University of North Carolina through the development and improvement of the Entrepreneurship Minor website.