The Value of an Effective Email Newsletter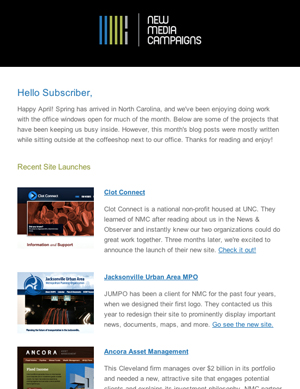 Email is one of the original online communication and marketing techniques and if done correctly, it can still be an extremely effective way to share information and encourage company and client interaction. With the continued decline of RSS feeds as a news source, email newsletters are a great way to keep clients, friends, and fans updated on what's going on with an organization. 
Open rates for monthly newsletters are usually between 20-40% and while a 2% click-through rate for an online ad campaign is typically considered a success, email newsletters can consistently get 15-25% click-through rates. An email communication strategy can be an effective addition to your online marketing mix.
New Media Campaigns' Experience with Email Newsletters
Almost a year-and-a-half ago, we decided to make a concerted effort to send a monthly email everymonth, and we've seen great results from the consistent effort. We have three simple goals for each newsletter:
Announce our work so that both NMC and our clients get exposure
Share blog posts that will help our subscribers think strategically in their own online endeavors
Publicize cool and interesting news about our company and our employees
We consistently see open rates between 35-40%, but more importantly, every newsletter prompts multiple emails from clients thanking us for a helpful blog post or interesting news item that they wouldn't have found otherwise.
Simple steps for how to start your own email newsletter program
Collect email addresses
Put a signup form on your organization's website in the sidebar or header and make it simple for people to give you their information. A name and an email address is most likely all you need to ask for. In offline situations, if someone expresses an interest in staying up to date with your organization, ask if you can add them to the distribution list.  Don't add anyone to the list who didn't request to be on there, but make it as easy as possible for those who are interested in keeping up with your organization to do so.
Build a publishing schedule and stick to it
While Groupon and LivingSocial have managed to see amazing success sending an email every day, you're unlikely to have enoughcontent to update your subscribers that frequently. We've found that one email a month is both manageable and keeps our subscribers upto date. If bi-monthly or quarterly makes more sense for you, go for it! Just make sure you stick to your schedule so your subscribers know what to expect.
Choose an email marketing service that has good analytics
Use an email marketing service that gives you data for open rates, bounce rates, click-throughs, and allows you to do A/B testing. Sending out the same email with two different subject lines is a great way to help you to figure out what kind of language your subscribers are most likely to respond to. Two services that we really like are:
Build an email template that is straightforward and clean
Both CampaignMonitor and MailChimp have several predefined templates that will work just fine for getting your message out to those who want to know. If you want a template that matches your brand however, your web design team should be able to pretty easily design and code a template that adheres to Internet standards and ensures that the email will appear the same in Gmail as it does in Microsoft Outlook and every other of the many email clients out there.
What are you waiting for? Get started with your online newsletter!
Email newsletters are really low hanging fruit to build out and compliment your organization's online marketing. Put together a plan and start with family and friends. Keep the people who want to hear about your organization informed. If a newsletter is done properly, everybody wins.