We typically write about our tips and suggestions for online marketing and our client experience, but we thought it would be a great exercise to highlight other organizations and businesses that are already doing a great job in their online marketing initiatives. This post is the start of a new series where we'll interview small businesses, non-profits, and agencies who are doing a phenomenal job leveraging their online presence.
For the first business to be featured, we wanted to stay local and didn't need to look too far! Several people in our office are active runners, and we all have been really impressed with the marketing of our local running store.
We recently sat down with Brian White of Fleet Feet, a Carrboro Running Store, to discuss the success of their online marketing and any tips they have for companies going through the same process. As a note, Fleet Feet is not a client -- we just really admire what they're doing.

Could you give us an overview of Fleet Feet?
Fleet Feet Sports specializes in running, walking, fitness, and injury prevention & treatment products. We have a team of staff that are trained to properly FIT the right products to help people achieve a comfortable FIT to help them achieve their goals. We offer a 100% FIT Guarantee, which means that customers can trust that we will do whatever is possible to help them get into the correct products while standing behind their purchase. Fleet Feet Sports provides community run/walk programs for both kids and adults, clinics, seminars, and other various community wellness oriented programs.
How long has the company been around?
Fleet Feet Sports Carrboro has existed for 14 years. Tricia and I moved here 2 years ago to take over the store.

When did you launch your website? When did you realize it could be such a valuable tool?
We launched the current website when we moved here two years ago. The store had a good website already, but Fleet Feet Sports Inc. was offering a new design template service so we switched so that we would match the current Fleet Feet Sports layout. Our website has always been a focus for us from the beginning because we have so much going on in the community and we need a resource for people to learn how to get plugged in.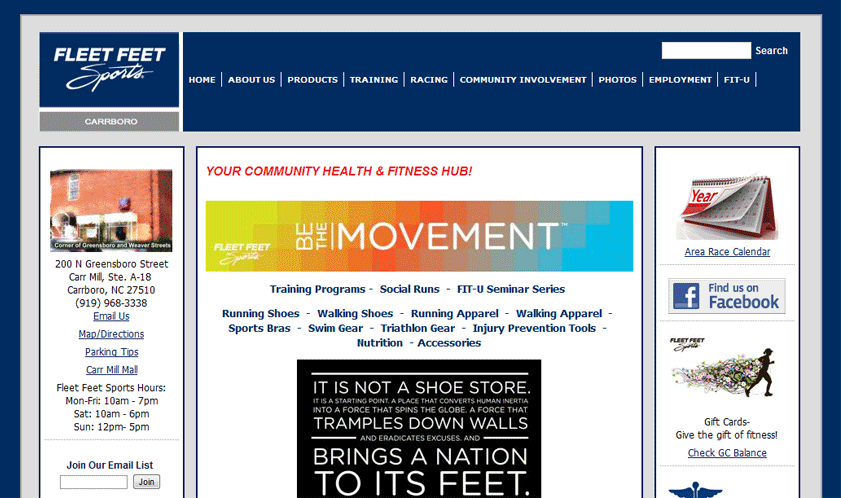 What are the main goals for your site?
We are in the people business, and although we could sell products online, it doesn't fit within our business model. We FIT customers, which requires personal attention and interaction. We hope that the relationships we build in the store creates brand ambassadors who refer others to come in for the experience.

In addition to your site, what other online marketing activities are you engaged in?
We have not really been involved in other forms of online marketing up to this point. We have looked at doing various things down the road. We do get linked to race/special event websites that we are sponsors of, as well as some health clubs, etc.

What type of return have you seen from your online activities? What has been the most successful?
Being linked to other event sites does drive a little traffic and allows people to get familiar and/or comfortable with us as a brand.

I really love getting your email newsletter -- what prompted you to start that and how has it worked for you?
Our E-News has been something that we've done for a while in our industry. There's so much that goes on with races, clinics, special events, etc., that it's important to get the word out. The key for us is to find the balance of making the E-News valuable to various people. For example, what can we provide for the runner, and at the same time, still offer something relevant to the person who only goes to the gym? So we have to make the E-News diverse. We also have recently seen the value in making the E-News personal, which is why we always begin with a little blurb from "The owners" that sometimes has nothing to do with running or walking but allows customers to get to know us a little better. We have a lot of people tell us that they enjoy reading this, and they feel like they know us and are better connected to the store. The fear/concern with our newsletters is that we don't 1.) Send them too often 2.) make them too long, and 3.) Upset customers because we acquire email at checkout.

What social media do you participate in and how do you decide which to focus on?
We utilize Facebook as our primary tool. Besides the fact that you almost have to be on Facebook, it allows us the opportunity to communicate daily. Where E-News has to be limited to just a couple times a month, we can communicate all the little things on FB without filling people's in-box. We dabble in Twitter and Foursquare, but we really focus on FB.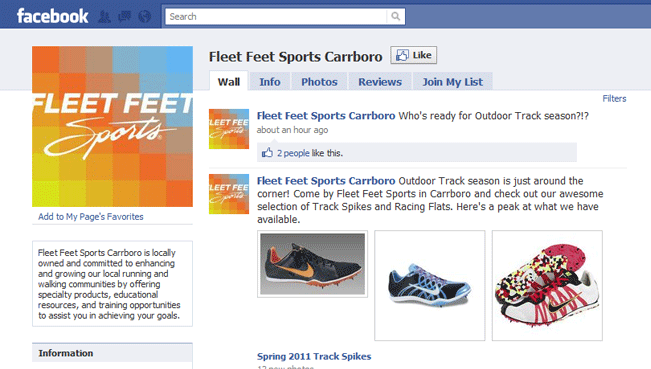 I noticed you had over 1,400 Facebook Fans -- that's really impressive. How have you worked to build that list?
For the first 6 months we had our account, we offered a random drawing for a free pair of shoes once a month to anyone on Facebook. This gave us a core group of people, and allowed us to share our info. The raffle was good initially because I don't think it was as popular to fan businesses at that time. Eventually, our fan base was large enough and consistent enough that we decided to stop the raffle. We promote becoming a FB fan in our e-news, and have a link on our website. We try to promote it in-store and at events, but probably could do a better job.

How much time do you and/or your staff spend doing online marketing per week?
2 weeks per month are more time consuming because of the E-News. An E-News will take anywhere from 2-7 hours, depending on how much material I need to gather and prepare. I'm on FB throughout the day, and probably spend about 30 minutes a day with our stuff and/or comparing other sites for ideas, etc. I try to keep the website updated, and provide an overhaul quarterly. Aside from info here and there, I prefer to find a time when I'm in the mood, listen to music, and just make a bunch of changes to the site.

Do you have any other tips or advice for other small businesses out there?
I love to get ideas from other businesses and then turn them into things that work for our business. Whether it's an ad, a layout, or a FB post, I think it's important to see things you like and make them fit into your own plan. It's important to find the right way to connect to your audience, and provide the information they need. There are so many opportunities out there, so it's important to find ways to be valuable to the community.
Wow, some helpful tips in there! Brian and his team have done a truly great job of leveraging social media and online marketing in an efficient manner that is effective for their organization.
It's important to remember that not every online marketing plan is going to be the same. Like Brian said, you should figure out how you fit into your community and how to best reach your stakeholders. Do you know of any other examples of small or local businesses using online marketing to fit their business model? If you want your organization to be featured in this series, let us know!
Don't forget to go check out their website and visit Fleet Feet Carrboro for any of your running needs.