How NMC Shares Good Web Reads with Each Other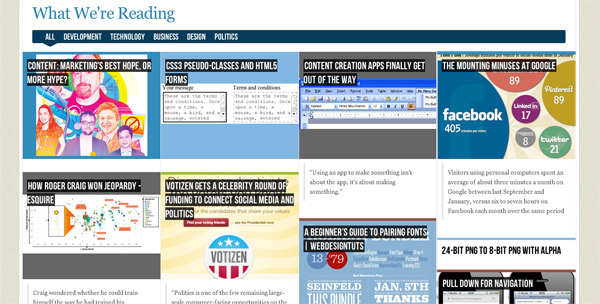 Everyone at NMC keeps up-to-date on our industry through reading articles around the web.  Each team member has some system they've refined that usually involves some mix of RSS, industry blogs and aggregators like Hacker News for finding the latest and greatest web-related news.
Last week, during the height of the current Pinterest frenzy, we thought it would be cool to build a board where we all shared the most interesting articles we came across. It would be fun to see what everyone else at the office was reading and would help bake in some institutional knowledge since we may be reading things that are relevant to others on the team.  We thought it would also be fun to make that public to let clients, prospects, and friends follow what we're reading.  So, we built the "What We're Reading" page. It's an NMC curated list of the best web-agency news out there.
To make it easy for the whole team to use, we spent a couple of hours and built a super-simple bookmarklet that uses the HiFi API.  A bookmarklet is a bookmark button that runs a script:

We all installed this on our browser and whenever we're reading an article that is worth sharing, we click the button and get a nice popup: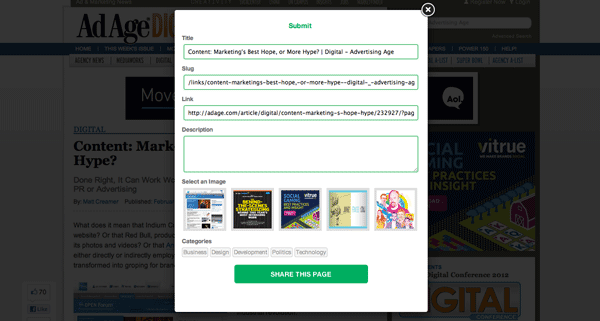 This pre-populates the description with whatever text we had selected and also finds the largest images on the page so that it's easy to include those in the post. Once you hit submit, it's sent to HiFi and posted to the site. Using it is super-easy. 
The list can be sorted by different filters, letting each person focus on what is most interesting to them.  We're excited to share our reading list with everyone, but probably more excited to use it ourselves!  Check it out and let us know your thoughts!