NMC Launches Site for World's Largest Hands-On Science Program
New Media Campaigns is pleased to announce the successful launch of the website for Agastya International Foundation. The website for this non-profit organization, housed in India, is another proud addition to New Media Campaigns' diverse portfolio of work for companies around the globe. The site, developed on NMC's Hifi content management system, includes an active blog which Agastya maintains to keep their supporters informed and share inspiring stories of this movement.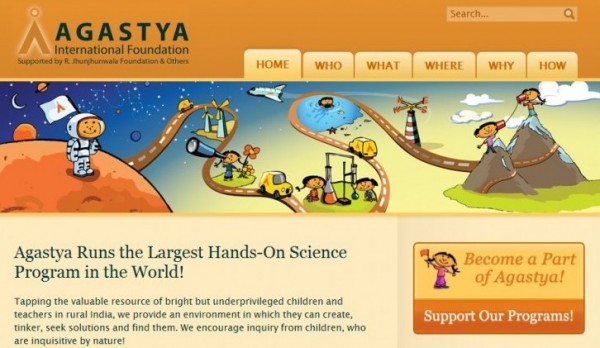 Agastya, an organization founded on innovation and dedication, is well-regarded around India and the world. Agastya provides the learning environments and resources necessary to inspire creativity and discovery for underprivileged children and teachers, majority living in rural India. With the invaluable support from various CEOs, educators, and learning institutions and the unwavering dedication of the Agastya Team, the organization was able to positively impact over 3 million children and 120,000 teachers as of 2009. The Agastya model is replicable anywhere in the world and Agastya has plans to continue expansion to reach more children everyday with this life-changing movement.
NMC's team of designers felt it was only fitting to bring a friendly and approachable feel to the site using the illustrations by the group as the banner. These illustrations bring this organization's personality to life on the site while telling the story of Agastya. NMC was thrilled to develop and design this site for Agastya so that the organization could continue to effectively spread this inspiring cause and looks forward to learning about Agastya's future success that is sure to come.