Tim Ryan wanted to stand out from the crowd of other Congressional hopefuls. Campaigning in his home state of Ohio, Mr. Ryan came to New Media Campaigns looking to build a site that would increase his political reach and build a strong base of support for his campaign, while emphasizing his youth and connectedness to current events. NMC designed a unique site for Mr. Ryan that communicates his platform and his personality through a variety of different media and channels. The unique site paid off in terms of engagement. After launch of the site, the average visit time increased by two minutes and the bounce rate dropped 10%.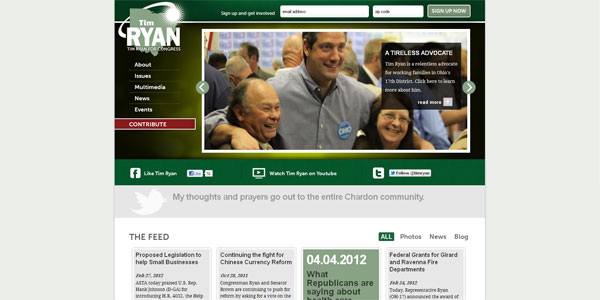 A distinctive feature of Mr. Ryan's congressional site is the Feed on the homepage, which leverages several APIs to pull in his latest news articles, blog posts, and photos from Flickr. Powered by Javascript, each Feed category has a different look to make it distinctive, and the categories can be sorted, making it easier to find particular media. Just above the Feed, there are links to Facebook, Youtube, and Twitter, along with a prominent bar that features Mr. Ryan's latest Tweet. This amalgamation of social media, blogging, and photos serve to illustrate how connected Mr. Ryan is to current events and voters, and that he has really embraced the web and social media as a tool to help him govern.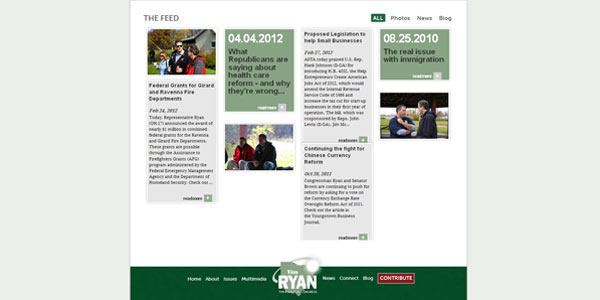 Like the Feed, a Multimedia page is sortable and features both photos and videos of Mr. Ryan at various functions. The videos help visitors better connect with the Congressman, as they feature anecdotes, holiday messages, and information about his platform and political campaign. A News section rounds out the media presentation on the site, with current news about issues that are important to Mr. Ryan, what his position is on them, and what he's doing about them.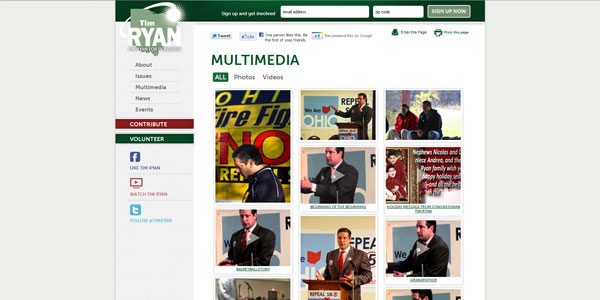 Getting visitors involved and interactive is a central goal of any website, especially for a political candidate who is hoping to grow and nurture support for their campaign. Mr. Ryan's site therefore incorporates various calls to action, with red Contribute buttons featured prominently on the main menu navigation and also at the bottom of the page for visitors who have explored the Feed and want to get involved. Additionally, there is a Sign Up Now field at the top of the homepage, allowing visitors to sign up for Mr. Ryan's email communications. The fundraising and email lists integrate the tools provided by Blue State Digital Tools. Our partnership with BSD Tools allows the client to get both great design and HiFi CMS from NMC and also benefit from Blue State's tools, all bundled into an affordable price. Importantly, it also provides a seamless experience, with the forms built into the overall web design and keeping visitors on the page.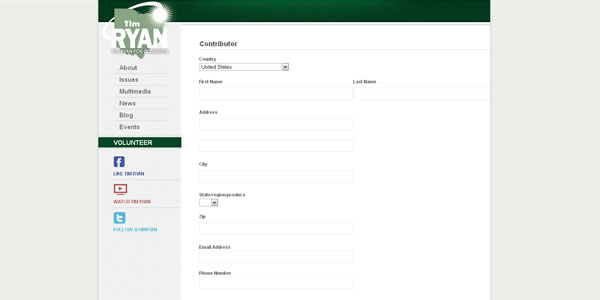 Designwise, the site is straightforward and clean, with Tim Ryan's logo incorporating a graphic of Ohio to tie him to that state. Mr. Ryan's bio and platform are presented up front on the About and Issues pages, making it easy to learn more about the candidate, and then the aforementioned media links and sign up tools serve to help visitors drill deeper and become more directly involved in the campaign. As a current Congressman and former State Senator, Mr. Ryan has a wealth of political experience, even at his young age. His new site effectively communicates both of these aspects and gives him a great platform in new media as he seeks re-election.