A High-Performing Website for a High-Performing B2B
NMC planned, designed, built, and launched a totally new and custom website for SDG, an international consulting firm founded in 1981. SDG helps global businesses raise not only the quality of their decisions but also their decision-making processes. The new site is responsive, image-rich, offers a variety of resources available for download, and feaures their successful case studies for projects around the world.
A leading global website for a leading global company
It's OK if you've never heard of SDG — unless you're a Fortune 1,000 company who needs to hire a strategic management consultant to help with your internal business processes, there's not necessarily a reason you would. But for a company with offices in San Francisco, Lebanon, Canada, Germany, India, and Hong Kong, it was important that the quality of its website matched the quality of its services.
The old one was bad: narrow fixed desktop width, hard to navigate, slow to load, and near impossible to discover all the great research they've conducted an published. NMC changed all that with a new design that shows instead of merely tells the story of the company's wide-ranging and influential reach. SDG wanted a new site that reflected their leadership in the market and helped generate new business. The new fast, responsive site lets their results do the talking for them.
An attractive design that shows instead of tells
The content that SDG produces includes not only the results of their comprehensive research but also case studies and white papers, all of which demonstrate their years of experience and successful client experiences. We focused on redesigning this content for discovery and stickiness as part of their overall web marketing strategy.
To get it right, we iterated rapidly through discussions about their goals, producing high-fidelity wireframes that reflected our vision of their company's reputation and expertise that ensured we were on the right track. From there followed visual design, coding, and integration with HiFi CMS, which makes it a breeze to add and edit new content quickly.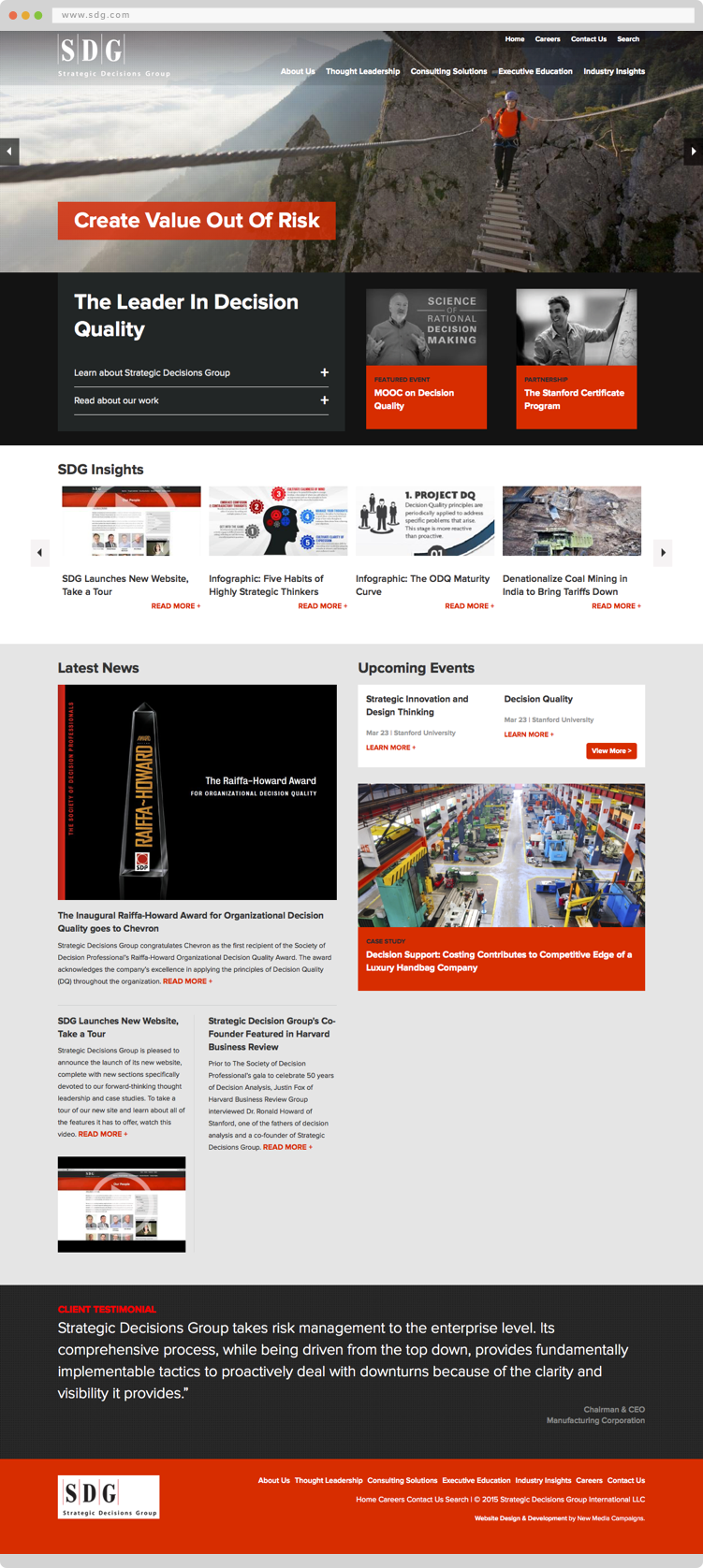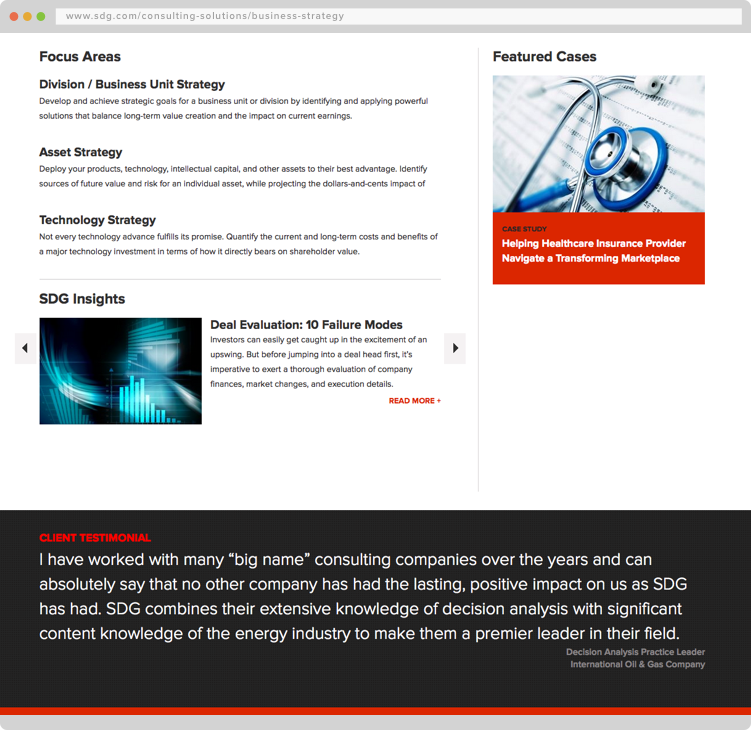 Insightful research, front & center, when you want it
A big part of the new site was organizing all the great research, white papers, and articles that SDG has published. So we built a system that's as easy for visitors to peruse as it is for SDG staff to manage: every case study, insight, testimonial, and client solution is categorized by Consulting Focus, Industry, and Region, so the right information is easy to find.
The SDG in Action section profiles the positive results of their work with clients while the Insights & Case Study sections allow the visitor to scroll through each line of business. Overall, it presents a custom-tailored approach to the content, making sure visitors find what they care about most, across different sections, and SDG only has to publish and upload once.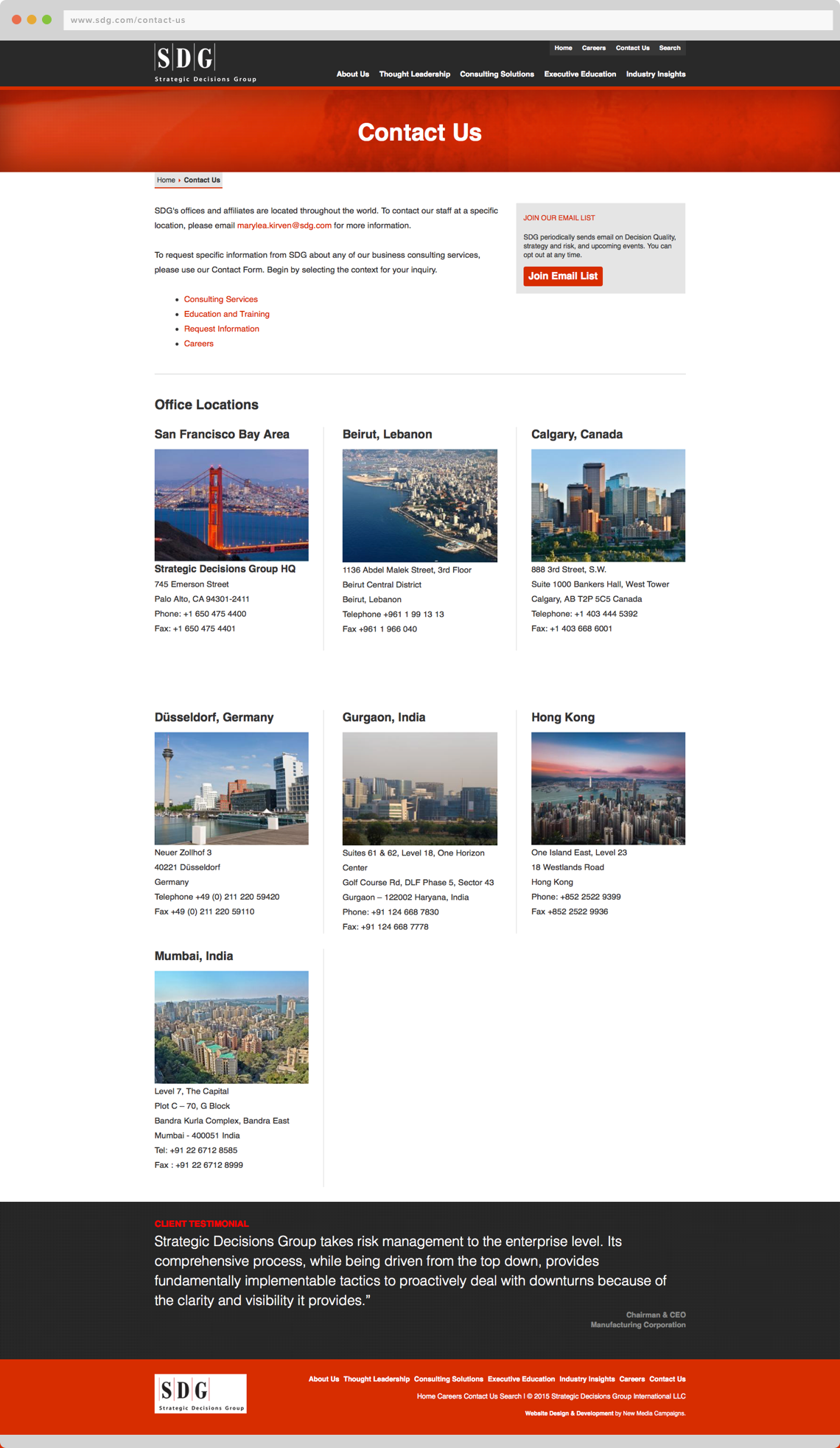 Front-to-Back Service for a Business-to-Business Company
When a full-service consulting company needs to redesign its website, where does it turn but another full-service company? Beyond the attractive design, lightning-fast code, and easy-to-use content management system that you'd expect, NMC also delivered timely project updates and strategic consulting. This in particular was important when advising SDG how best to take advantage of its library of content for improving its organic search performance.
To make sure that SDG got the most out of the investment, we designed all the relevant case studies, resources, and events to feed into different industry pages so that visitors get easy access to the content they're looking for right then. It's no longer just about a fast, attractive site: to succeed online today, it's essential for companies to embrace effective content marketing to stand apart from the crowd. Take a moment to explore the new SDG site and see for yourself.
Contact Us
NMC has designed & built more than 600 websites since 2006. Let our experience work for you: