A Campaign Website Sophisticated Enough for TX's Largest Congressional District
Texas's 23rd congressional district is massive, stretching across the whole state from El Paso to San Antonio. To serve a population that large and diverse, you need the right tools. The Pete Gallego campaign called on NMC to design, build, and launched a custom website that gives voters all the tools they need to support his candidacy and spread the word about the campaign.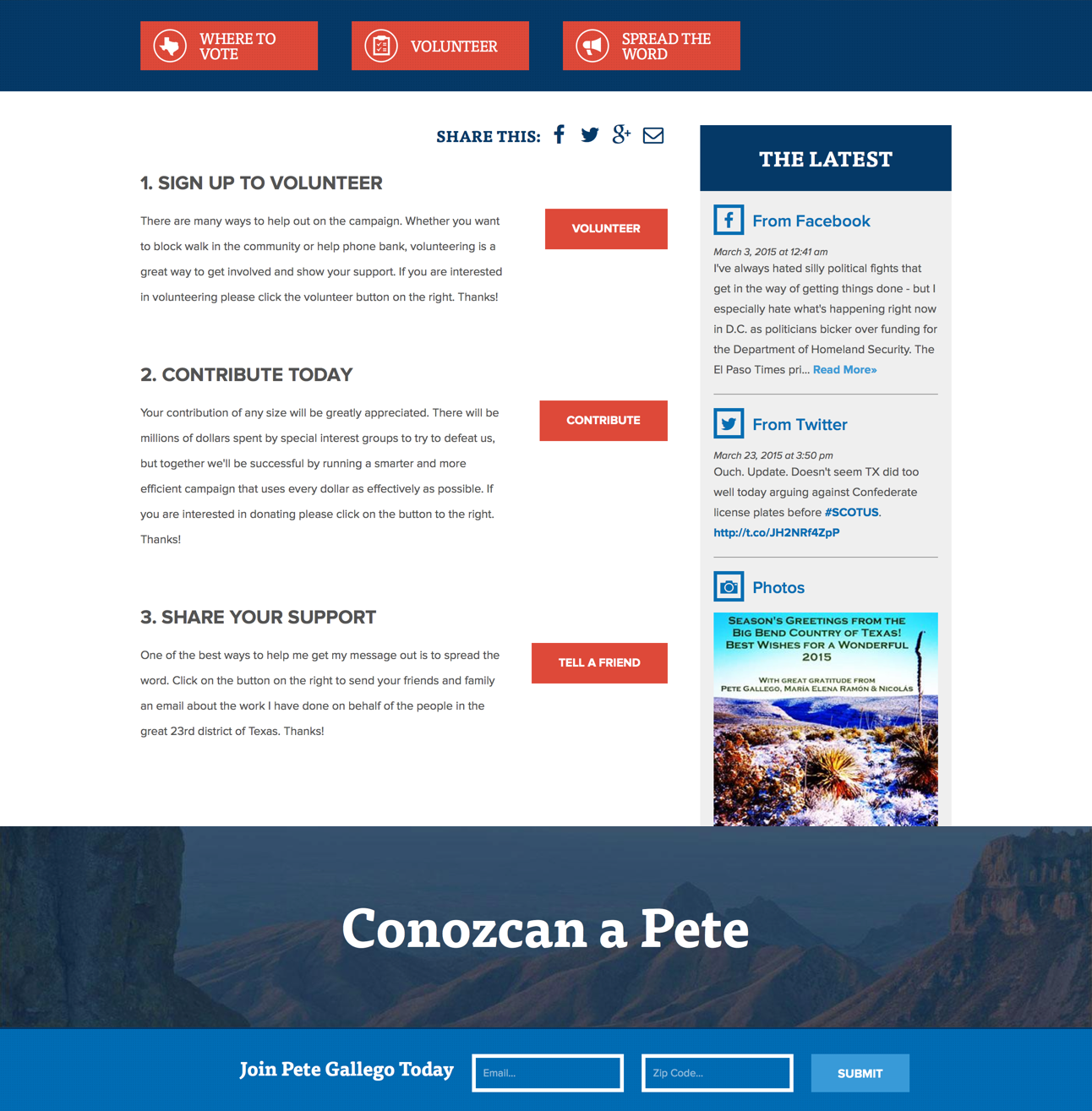 Lone Star Style, Red & Blue, Through & Through
The modern visual design incorporates elements of Texas flair with custom icons, local maps, and state flag colors. The site needed not only to reflect Pete's longtime family roots in the district and state but also his extensive aned forward-thinking work on its behalf. The action center includes different ways to get involved, with clear, bold links describing where to vote and how to volunteer.
Pete's active social media feeds, which are embedded live on the site, provide voters with daily updates on his work within the district and on its behalf in DC. In addition, each page of the site is designed to allow for Spanish translations of the content content – the "En Espanol" option offers a seamless experience that ensures no matter what language a visitor prefers, they have access to the same content and site tools. Finally, all forms filled out on the site automatically sync with the campaign's BSD Tools account.
A Winning Digital Strategy for the Lone Start State's Largest Congressional District
When Pete Gallego and his team decided to run for congress, they knew they'd need a proven digital partner to design and build the tools to organize voters and get the word out about his campaign. By choosing NMC, the campaign got the benefit of our experience launching hundreds of successful political campaign websites to deliver a product on time that provided everything they needed to support his candidacy.
The Gallego family goes back many generations in Texas and it was important that the site's design reflect his commitment to the state and to representing it well in Washington. NMC designed, built, and launched a website with real-time social media updates, instant Spanish language translations, and automatic integration with BSD Tools, all on-time and in-budget. It's a website his ancestors would be proud of (well, if they knew what a website is).
Contact Us
NMC has designed & built more than 600 websites since 2006. Let our experience work for you: