A Modern, Responsive Web Site for the Sunshine State
As the progressive voice in a diverse and populous state, the Florida Democrats' task is to engage voters to take action on policy related to social justice, the environment, ethics, and education reform. Doing that requires effectively tipping casual, thoughtful supporters into active, working participants so it helps that they have a modern, unique, and responsive web site designed to connect easily with citizens and voters that loads fast and is easy to use and update.
Beyond informing voters about goings-on throughout the state, the Florida Dems site focuses on the concrete steps to take action, such as signing up for news, registering to vote, or volunteering one's time. NMC has a lot of experience cultivating "The Ladder of Engagement" that successful political sites use to motivate voters and it's evident throughout the site. The emphasis on engagement is evident from start to finish, from the news article-based home page to the active verbs used for navigation.
Our Task
Like all NMC projects, first and foremost we identified the objectives of the organization as translated into the actions most people visit the site for. To design effective web sites, it's essential to organize the navigation and layout around what people are there to do: in this case, to Contribute, Register to Vote, and to Volunteer. Together with a form for joining the FDP mailing list, these core actions — and the custom icons we illustrated for them — constitute the calls to action that immediately engage the visitor on the home page.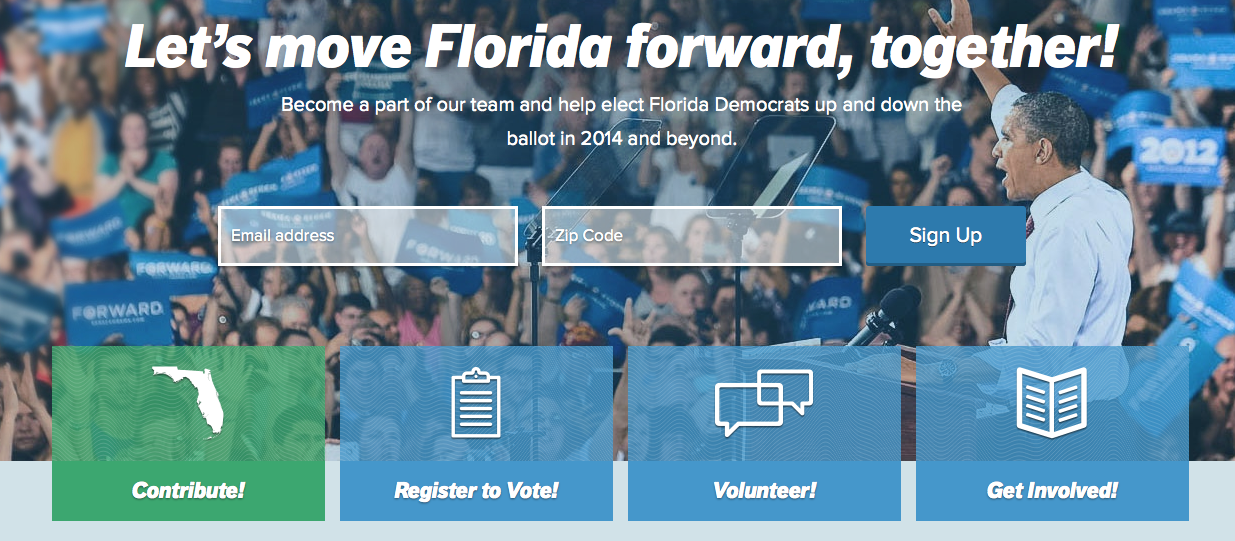 A common mistake of many web sites is to overload the home page with too much descriptive text. The principal goal of a home page is to act as a table of content that helps to guide and direct the visitor to the content or action she's looking for. Effectively designed sites employ clear, distinct calls to action.
But simply including a signup form is only the start of effective customer relations management (CRM): organizations that want to make the most of that relationship rely on tools that integrate into the process. Florida Dems use Blue State Digital Tools for their CRM needs, which NMC tied directly into the site. All the donors and volunteers' names are automatically integrated so that any time a visitor signs up on the site, they are instantly added to the BSD database, meaning the campaign only has to manage one for marketing and outreach. New Media Campaigns also set up a configurable BSD Tools template for any one-off petitions.
Visual Design Details
As you'd expect from a Democratic committee web site, we drew from a color palette centered on blue shades with green for buttons and yellow for accents. The most striking visual effect is a consistent use of translucency to indicate depth and layering. From hero images at the top of each section to individual news items to the email newsletter signup form, transparent visual elements help to break up what would ordinarily be plain, ordinary text.

The news items headlines employ this same translucent background overlaid and offset on full-bleed images. FDP site administrators can upload high-quality photos with the focus aligned to the right to accommodate the headline, which conveys the feel of a professional online publication. Moreover, since each headline will vary in length, we designed the object to be flexible whether it's two, three, or four lines in length. The layout adapts as necessary with no strange breaking or overlapping.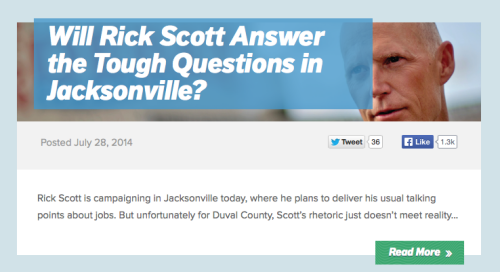 For the type, we went with a recent favorite, Dagny Pro, for headlines. This award-winning, sturdy sans-serif font was custom-designed for Sweden's largest daily newspaper and reinforces the site's feel as a periodical: perfect for the FDP, who frequenlty publish news items about the state's political environment. We used a heavy, italic weight whose slight lean implies the progressive platform of the Florida Democratic Party. For body copy, we chose the eminently legible and perennial NMC favorite, Proxima Nova.
Both are modern web fonts served by Typekit that, together with an consistent application of translucency and layering, lend the site a fresh, modern feel. Finally, what could be more modern than a fully responsive web site? Like every New Media Campaigns web project, we designed and built it to adapt to whatever size screen the site is viewed on. Go on, re-size your browser (you know you want to).
Technology
Modern web sites are not just static brochures: they need to be frequently updated, which implies an easy-to-use content management system, and they should incorporate external services such as twitter and Facebook. We chose HiFi to powers the Florida Democratic Party site for its power and flexibility. HiFi allows us to build custom text fields that accept whatever kind of data the client needs, such as blog posts, single pages, contact forms, or slide shows. When time is sensitive, being able to update the site without relying on a web developer is critical.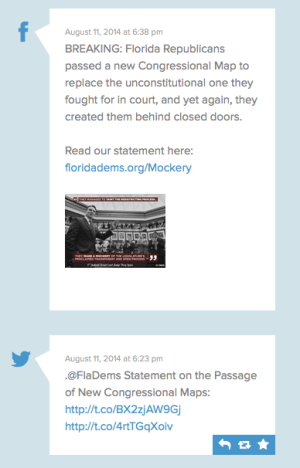 NMC designed and integrated brand-consistent Facebook & twitter feeds that look just like the site they inhabit. For organizations that actively promote themselves through these channels, including both feeds in a seamless sidebar as on the FDP site is an easy way to incorporate fresh, compelling content without having to commit to a full blog post or article. The FDP is an extremely dynamic organization working hard to fight for Florida Democrats, every day. What better way to show that commitment than automatically integrating frequently updated social media posts?
And speaking of content and 3rd-party integrations, no web site representing the great state of Florida would be complete without a Spanish language version. We included a link to the Google Translate service which automatically renders each page in Spanish on the fly. This is especially useful since it doesn't require site administrators to have to maintain multiple language copies of each page and any new content will be translated automatically. (You can see something similar in action for Duke Global Health Institute, but for 8 languages!)
Effective Design, Useful Technology, Friendly People
We're extremely pleased with the reception of the Florida Democrat Party web site — we've continued to hear a lot of positive feedback since its launch in April 2014. That's due not only to its fresh, modern feel, but also to our commitment to purpose-centered design: a web site is most effective when the focus stays squarely on the needs of the visitor.
Useful technology like Wordpress and social media integration help keep the site updated and dynamic while a responsive layout means it will look great on any device. Most importantly, this was our second project for the client — if you're easy to get along with and do great work delivered on time, you can expect referrals. Why not learn firsthand what it's like to work with us? Get in touch today.