The Brunswick County Economic Development Commission needed a new website to better showcase commercial, industrial, and recreational opportunities in their coastal county. They called on Liaison Design Group to design the site, and then New Media Campaigns developed and translated that design on HiFi Content Management System to create a functional and appealing website that shows off what Brunswick County has to offer.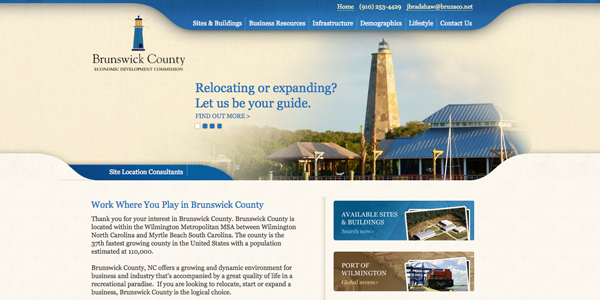 Brunswick county is primarily known for the beautiful sandy beaches that have made North Carolina a popular vacation spot for many years. Home to Ocean Isle, Sunset Beach, and Oak Island among others, seashore recreational opportunities abound. The Brunswick County EDC highlights and promotes these beaches, with a coastal theme that runs throughout the site, from the lighthouse logo and homepage photo through the images of beaches and ports.The website also emphasizes that Brunswick county is bordered by two other economic hubs--Wilmington to the north and Myrtle Beach to the south--so businesses know that there is sufficient commerce nearby.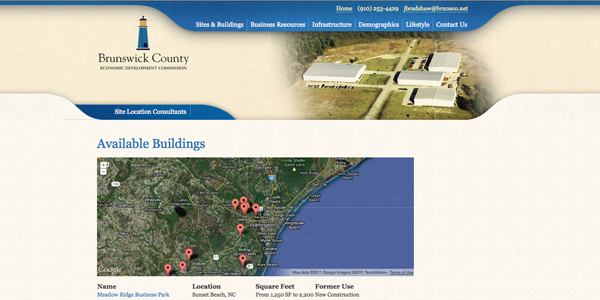 Central though the coast may be, the EDC is tasked with developing and promoting economic development in the county, and therefore provides many resources for businesses that might be looking at the county as a potential place to set up shop. One such tool is an interactive, embedded Google map featuring current available business sites in Brunswick county.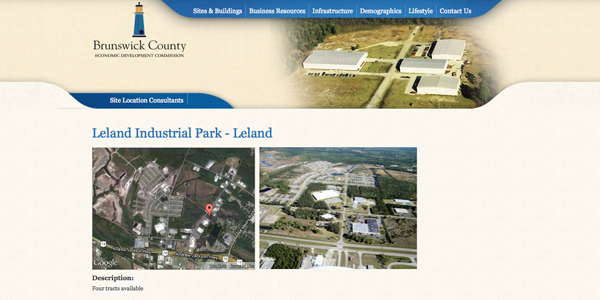 Taking things a step further, the site also highlights the Leland Industrial Park, an area zoned for heavy manufacturing. Potential businesses can research the park, as well as other infrastructure (railroads, shipping, etc.), demographics, and recreational opportunities in the area.
The pragmatic and straightforward design eases navigation while reinforcing coastal ties and nautical themes on each page. Our Content Management System ensured flexibility in integrating the embedded map features and makes updates and changes to the website easy.
Importantly, HiFi ensures that the site is search engine optimized so that businesses and individuals interested in a potential move to the county can find relevant information easily, and it also allows the flexibility to expand, change, and update the site as necessary. HiFi also enables clients like the Brunswick County EDC to have and manage high-quality websites that are affordable and can be rapidly developed and launched.