Harris Cloud Computing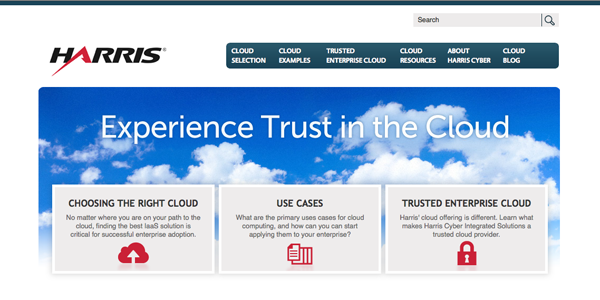 Harris Corporation is a large corporation providing communications systems and information networks internationally, to both commercial and government customers. As with many communications and web-based companies, Harris is expanding into Cloud Computing, and came to New Media Campaigns to build a Trusted Enterprise Cloud website to provide information and market their cloud computing services. New Media Campaigns partnered with PR 20/20 on the project, with them providing strategy and content creation for the site.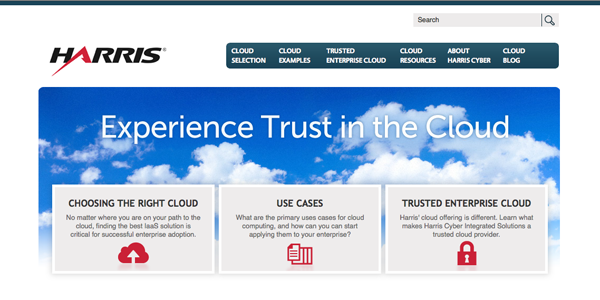 As the concept of Cloud-based computing, storage, and communications grows and moves forward, one of the keys to getting new customers to buy into the idea is trust. To that end, Harris' site boldly proclaims, "Experience Trust in the Cloud" on its homepage. It then provides a huge amount of well-organized information, provided by PR 20/20, to explain the benefits, costs, and purpose of cloud computing. Design-wise, we worked to create a very clean, modern, and highly functional layout--very necessary characteristics for a website with this much information.
Significantly, the site was designed and developed using ExpressionEngine, which, along with being a flexible design platform, allows the site to be launched into the Cloud, thereby showing that Harris practices what it preaches. We kept the new site on the Harris domain to tie into their larger global branding strategy, and also to give the new site a leg up in search engine optimization, since harris.com is already an established domain.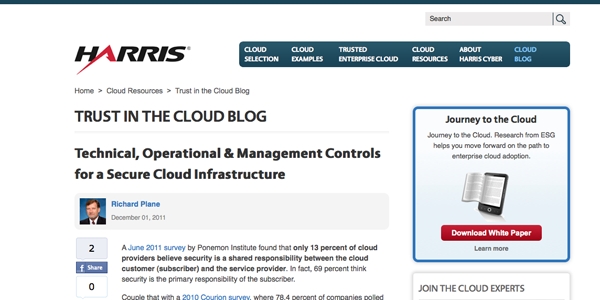 Like many sites, the Trust in the Cloud site has a blog with current and regular information about cloud computing and Infrastructure as a service (Iaas). Blog entries can be sorted by the authors, who are listed in a sidebar. Social media also seamlessly ties into the blog, with Twitter, Facebook, LinkedIn, and Google+ buttons alongside each entry, ready for a visitor to share on their social network of choice. The Harris blog authors are very good about keeping their content up-to-date with regular entries.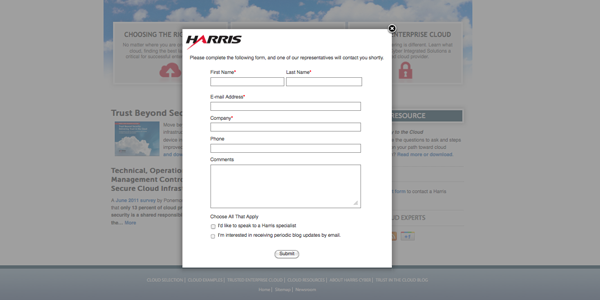 Everywhere a visitor clicks on the site, he or she will find interactive buttons, information, and calls to action. If you click "Let's Talk," for example, a lightbox pops up, encouraging you to make contact with the company and find out more about its services. We built the forms to integrate into the existing Harris CRM and form system. That way, all data entered on the site is seamlessly recorded in a database and appended to any existing record for that person. Each form also tracks the source of the lead (from a search engine, referring site, etc.) and what path on the Harris site led them to successfully submit a form.
Depending on where you are on the site, you will find related resources and relevant free downloads. All of this tailoring is the result of a tagging system we set up in the Content Management System.
The resulting website is one that ties into its parent company while simultaneously standing on its own. It presents a service, explains to potential customers why they need it, it presents information to gain their trust, and then provides them with multiple avenues of action and contact to get them started. This site is a great example of how to rationally and systematically manage a lot of content, and how to design a standalone site that is different from, but maintains the branding cues of, its parent company.