NMC Launches Website for FastMed
New Media Campaigns recently launched the website for FastMed, a network of over 25 urgent care facilities in Arizona and North Carolina. FastMed's previous website was slow and built using an old content management system. The company's mobile site needed to be optimized to a greater extent, as well. FastMed approached New Media Campaigns with the tasks of updating the layout and design of their site, and building the site using the HiFi Content Management System.
The new FastMed site loads at a significantly faster rate when compared to the old site. The design of the website features the bold golden and purple hues featured in the company's logo, and organizes the site's information in a clear, and intuitive way. NMC incorporated a zip code search that allows people to easily find the nearest FastMed location.
New Media Campaigns also updated the mobile FastMed site. The simple, colorful, and sleek design of the mobile website allows people to easily navigate around the site. The mobile site features 6 icons that allow people to access the Check-In Now and Locations features, information relating to FastMed's Services and Leadership, and the company's Blog, and Contact information. There are also social media links at the bottom of the mobile page. The mobile site also uses the phone's GPS to detect a visitor's location and indicate the nearest FastMed location.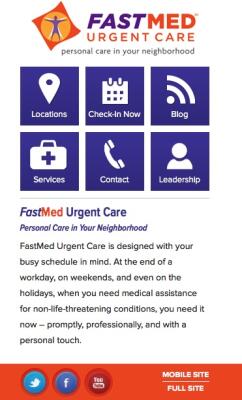 NMC is extremely proud of their collaboration with FastMed, and is pleased to add this project to company's portfolio.