NMC Launches Website for Complex Care Solutions
New Media Campaigns recently launched the website for Complex Care Solutions, a New York-based company that provides home-based healthcare to patients who suffer from chronic illnesses. Complex Care Solutions provides services to thousands of individuals throughout the United States with the intent of reducing the costs and improving the quality of care provided to patients.
NMC designed a clean and modern site for Complex Care Solutions on the HiFi Content Management System. The structure of the site allows the company to convey information in a clear and concise way. The homepage rotation displays images of interactions between patients and practitioners, emphasizing the company's focus on face-to-face healthcare.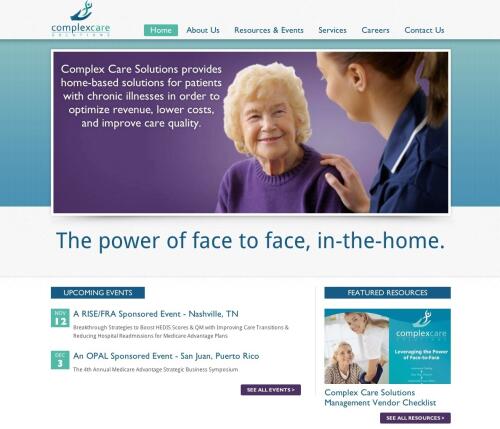 The homepage features a Resources and Events link, enabling individuals to quickly access relevant resources, and information pertaining to the events that CCS organizes across the country. CCS offers many employment opportunities for healthcare practitioners and administrators throughout the US, so the Careers section is featured prominently on the site, as well.
New Media Campaigns is pleased to have worked with Complex Care Solutions on this project. NMC is confident that this site will allow patients throughout the country to readily access CCS' services.