NMC Launches Website for Balega Socks
New Media Campaigns recently launched the website for Balega, a popular company that designs and produces high-performance athletic socks.  Balega's previous website was fully built in Flash, hurting the company's search engine rankings and making it inaccessible for many visitors to use the site.  The new site places a priority on making the site very easy to navigate as well as making it in line with other marketing materials, giving the brand a consistent feel across different media.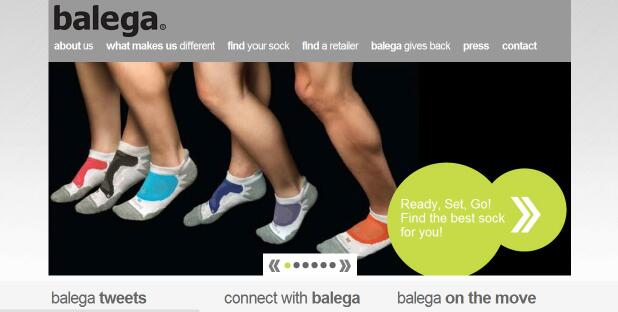 The design of this website, developed on NMC's content management system, is simple and crisp with clean lines, sleek shades of gray and subtle pops of yellow, allowing the colorful images of Balega's state-of-the-art performance socks to take the spotlight.  This fresh, modern feel reflects the company's innovation and technical excellence.  The new site also features a Sock Finder that allows visitors to filter by different sock traits to find the pair that is the best for them.
Balega not only has a strong passion for their craft, but as a American-South African partnership, they also give back to the South African culture and community that has largely inspired the way they do business,includingthe name of the company itself—a Zulu word meaning "to move with speed." Balega uses a portion of their revenue to fund The Lesedi Project, comprised of several inspiring initiatives to provide scholarships and raise money for schools in their community.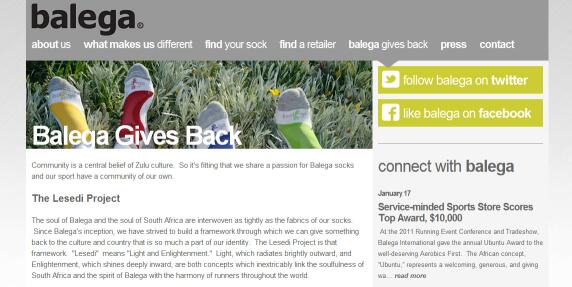 Balega's facilities are located in Cape Town, South Africa and Hickory, North Carolina and their brand is sold at many specialty running retailers throughout the U.S., Canada, and New Zealand.
The brand has a fanatic following among its customers, so the site also highlights different social networks in which Balega participates and interacts with fans.  NMC is proud of the new site and the giant step forward it represents for the company and their mission to help active people while also supporting their local communities.