NMC Launches Site for the American School Bus Council
New Media Campaigns has recently launched a new site for the American School Bus Council. Designed and developed by NMC on our HiFi Content Management System, the new site boasts a host of features aimed at raising awareness and appreciation of school busses and their drivers. The centerpiece of the new site is the Love the Bus section, with information about the annual campaign to promote the efficiency, safety, and eco-friendliness of bussing, and the hard work of the many safe school bus drivers nationwide.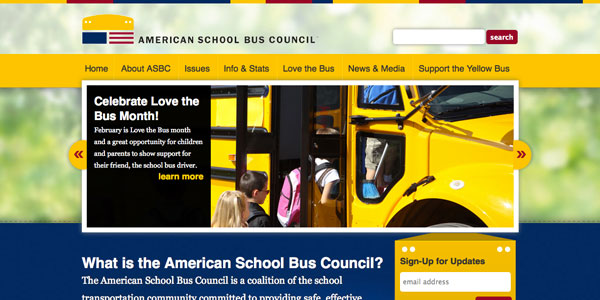 The new site design incorporates the colors and feel of the ASBC's branding without being overpoweringly yellow, and features both straightforward navigation and some custom tools that round out the visitor experience. The Sign-Up for Updates panel integrates a Salsa Labs API to manage visitor information without taking the visitor from the site, while a News & Media section efficiently corrals the blog, press releases, and ASBC in the news sections, making it easy to find recent information about ASBC activity.
Central to the site and to the mission of the ASBC is the Love the Bus initiative, a month-long campaign to promote school busses and drivers. Because of its importance to the organization, the Love the Bus section of the new site features a custom design to set it apart from the rest of the site, while retaining enough design cues to make it work visually with the rest of the site. This section also features an NMC custom-built eCard tool that allows visitors to create eCards of appreciation and gratitude for their favorite bus drivers.
NMC is very excited about the new ASBC site, and happy to be launching it just as Love the Bus month kicks off in February. The new site is a great platform for the ASBC to continue their important work supporting safe bussing and great bus drivers.