NMC Launches Site for the ACA, New England
New Media Campaigns is excited to introduce the new website for the American Camp Association, New England, an organization of camp professionals that caters both to the public and to other camp professionals. Tasked with providing knowledge, resources, and experience to accredit and promote quality camping, the ACA needed a site that was both fun and useful, just like the camps it serves. NMC leveraged its powerful HiFi Content Management System to integrate an exciting new design with powerful tools and rich content, resulting in a site that is lighthearted and engaging, easy to navigate, and full of useful information.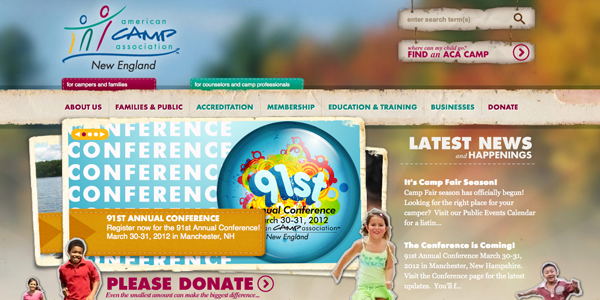 The new site differentiates between its dual audiences through color coded menus, making navigation easy while maintaining a unified design theme. Hierarchical sidebar menus keep visitors oriented, while tools like the Professional Calendar provide useful information and a way for members to interact with the site. The site features the requisite social media buttons, a news feed, and two homepage rotations featuring informative Camp Stories and featured ACA topics.
The resulting site better communicates the fun of camp while providing a premium user experience. HiFi ensures that the plentiful graphics and photos load quickly, and that the ACA can update and add to the site easily. For anyone that has had experience camping, the site reminds them of friends made and skills developed, and for everyone it provides and engaging and attractive invitation to learn more, become involved, or contribute to the mission of providing quality camping experiences for children.