NMC Launches Site for Ron Williams, X-CEO
New Media Campaigns is excited to announce the launch of a website for Ron Williams, former CEO of Aetna, who now spends his time on several corporate boards and also as a business consultant, speaker, and overall expert in the business community. Mr. Williams wanted a site he could use to weigh in on topical business issues, promote past appearances, and book future ones. We partnered with Three Ships Media, who provided content strategy for the site, and then New Media Campaigns designed and developed the site using our own Content Management System.
Because of his new career as a speaker and consultant, it was important to emphasize Mr. Williams' past experience to establish credibility for people that might not be familiar with him. To that end, there is an informative "About Ron" tab on the site, as well as a sidebar on each page with a short bio and information about booking Mr. Williams. It was also important to have his speaking schedule easy to find and read, so that visitors could easily go hear him speak, or book him themselves.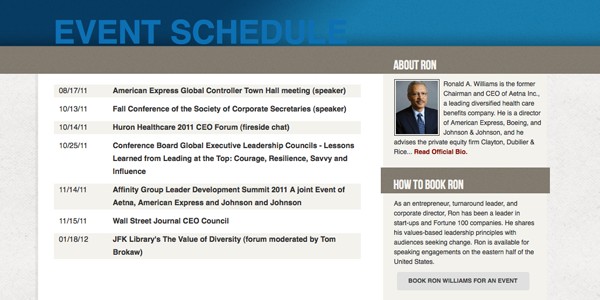 A Media page features some of Mr. Williams' past appearances on video, and many articles featuring him. The media list is searchable by media type to help visitors find what they're looking for quickly and efficiently.
The driving design language of the site is clean, straightforward, and professional looking. The site loads quickly, thanks to HiFi, which also optimizes the site for search engines, making it easier for potential clients to find Mr. Williams. The site is designed to further Mr. Williams goals in his new career by bringing traffic and attention to his considerable experience in the business community. New Media Campaigns is proud to have partnered with Mr. Williams on the site.