NMC Designs Website for Ohio Congressman Tim Ryan
New Media Campaigns is excited to announce the launch of Ohio Congressman Tim Ryan's new campaign website. Seeking to emphasize his youthful energy and focus on current issues facing Ohioans and Americans alike, the new site features prominent social media icons and links, as well as photos, videos, and news to keep supporters connected and informed. Built on the HiFi Hosted Content Management System, the site integrates several useful tools and provides a flexible and user-friendly foundation for future content additions and changes.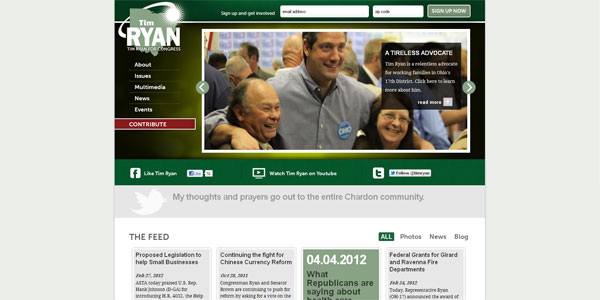 One of the distinctive features of Mr. Ryan's site is the Feed on the homepage. Powered by Javascript, the feed features Mr. Ryan's latest photos from Flickr, his most current news, and his most recent blog posts, all updated instantly whenever something new is added. Mr. Ryan's most recent Tweet, along with links to Facebook, YouTube, and Twitter are all featured just above the Feed, encouraging visitors to interact via their favorite social media.
Important features of any political website, Sign Up, Volunteer, and Contribute buttons are incorporated into the home page design, allowing supporters to get involve and contribute without taking them out of the site experience. Leveraging the powerful tools of Blue State Digital through a strategic agency partnership allows this level of design integration at a palatable price point for the client. Together with the social media links, these calls to action offer multiple points of contact through which supporters can help spread the word about the candidate's platform and support his campaign.
Rounding out the experience are About and Issues pages, which serve to provide background information about the candidate and the various planks in his platform. A Multimedia section presents photos and videos of the candidate, taken from various stops on his campaign trail. An Events page features a sign-up form so that visitors can be notified through email of any upcoming events.
Featuring a straightforward design and a host of interactive links, Tim Ryan's new congressional campaign website continues an NMC legacy of professional and effective political websites, and provides Mr. Ryan with a great hub with which to spread his message throughout the internet community and to reach new constituents.