NMC Launches Site for Midatlantic Employers' Association
New Media Campaigns has recently launched a new website for the Midatlantic Employers' Association, a member-based group providing human resources support in Pennsylvania. Boasting over one hundred years of experience, MEA needed a website that could easily manage its huge library of resources, leverage scheduling and login tools, and provide a dynamic browsing experience.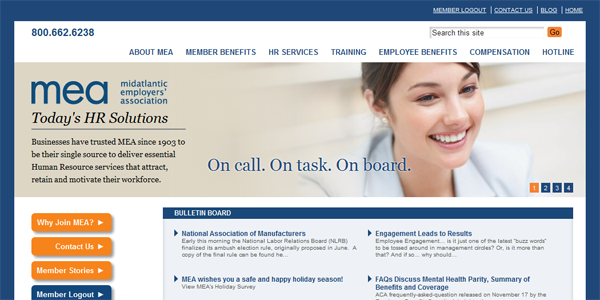 NMC partnered with Winnow Creative on this project, with the design agency calling upon its experience working with HR groups to inform its design, and NMC using the HiFi Content Mangement System to develop the site, integrating everything into a seamless experience.
The new site features a blog, the integration of a third-party Calendar of Events, and a custom app designed by NMC to manage new member information and enrollment. Additionally, the site provides a vast and rich amount of HR resources and showcases a host of valuable HR services that the MEA offers.
Over a year in the making, the MEA website was a detailed and intensive agency partner collaboration that resulted in a powerful new website for the client.