NMC Launches Site for M. Griffith Investment Services
New Media Campaigns has recently launched a fresh new site for M. Griffith Investment Services, an investment firm in New Hartford, New York. M. Griffith needed a site update to better reflect the quality of services it had to offer, and feedback indicated that clients wanted more depth of content on the site. Partnering with Romanelli Communications, New Media Campaigns built the site on HiFi, using Romanelli's design.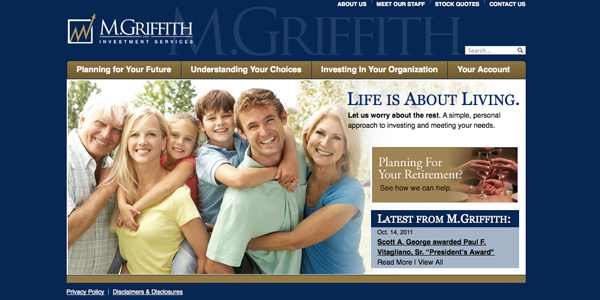 The new layout is current and features staff bios and many photos that help connect the visitor with real people and make the firm seem warmer and more accessible. Designed on our Content Management System, the design allows for easy updates and additions, and the pages are search engine optimized. Tabs move you through the site, where you can learn more about investing opportunities and why you should invest with M. Griffith. The new site also features a glossary of common investment terms to help visitors learn more about the company's services.
The end result is a site that is not only current with the times, but has built-in capabilities to keep it current and fresh into the future.