NMC Launches Protect the Deduction Advocacy Campaign Website
New Media Campaigns has launched a new site for the Kansas Association of Realtors. The site, Protect the Deduction, is aimed at Kansas Governor Sam Brownback's income tax reform proposal, which would, among other things, eliminate the state tax deduction for homeowners, a benefit worth an average of $390 annually to a homeowner. Based on previous NMC work with the North Carolina and Arizona Associations of Realtors, the KAR asked us to build them a new site to put pressure on Governor Brownback's proposed reform.  In addition to the site, NMC designed the logo identity for the campaign.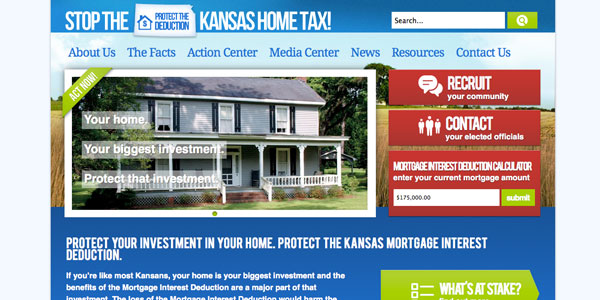 The new site features a simple, logical design that ties Kansans to their home state with University of Kansas colors and West Kansas wheatfields in the background. Prominent buttons invite visitors to learn more about the proposal, and to take action (via the Action Center) by spreading the word through social media, contacting local legislators, and/or writing to local newspaper editors. a Fast Facts panel refreshes on each page load in an effort to parse the complex issue into more easily understandable morsels.
The site also highlights a Mortgage Interest Deduction Calculator that invites visitors to find out how much the proposed reform would affect them directly. This direct connection to homeowners is a powerful tool that demonstrates how the proposed reforms would hit taxpayers in one place that hurts: their wallets.
Designed and developed on the HiFi Content Management System for Designers, the site features fast performance, intuitive navigation, and an interactive experience. We hope the new site will help the Kansas Association of Realtors in its campaign to preserve the mortgage interest deduction and help Kansas homeowners.