Lending a Helping Hand to Hey Monkey! Design
New Media Campaigns is happy to announce its recent coding work for Hey Monkey! Design's Lenny Terenzi. We work with Lenny frequently, and he was looking for some leading edge coding work to go with his straightforward, attractive design. The new site pushes the limits of what is possible on the web and employs many technologies including, but not limited to, HTML5, CSS3 and Web fonts. One of our big challenges was getting all of Lenny's imagery in place and still having the site load quickly and perform well. In came HiFi, our homegrown Content Management System, to the rescue. Because of the way HiFi eliminates empty space and compacts code as efficiently as possible, load times are very low. The page scores very well on metrics like YSlow and Page Speed.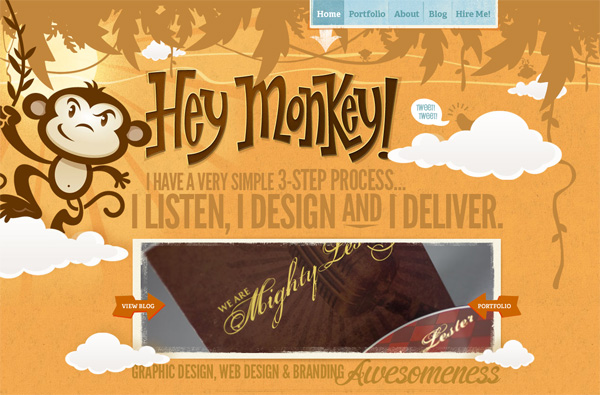 As we continue to move forward into the world of mobile operating systems and powerful mobile devices like tablets and smartphones, fast load times and efficient design are increasingly important. HiFi is an excellent tool in designing for both today and for the future, as it builds in exceptionally low page load times, and features flexibility and a high level of customization. Importantly, it is a powerful tool that doesn't lose user-friendliness--it doesn't matter if the person maintaining the site is web-savvy or not, they will be easily able to update content as needed.
We are happy to have provided a reliable and powerful platform for Lenny's designs, and to showcase all of the capabilities of HiFi.